Posted By RichC on February 20, 2020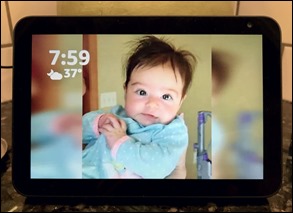 Brenda and I are praying that all is well, but I suspect BO#2 is just a little too comfortable. Our Taylor came 2 weeks late, so a little bit after his due date does not surprise us.
BabyOostra #2's due date was yesterday and Katelyn "thinks" she is holding out for the weekend, but something tells me that she is really not in control (although nowadays it is not unusual to induce labor, so who knows???)
Our Alexa powered Echo Show continues to feed us images every day which reminds me that our new granddaughter will soon be here. The photo above is of Annalyn from the Amazon Echo slideshow and it has me smiling and remembering her as a baby … and just how much she liked being entertained by me and "The Guys" (I think she still does).  So this post is a great excuse for an animated gif and Throwback Thursday #TBT.