Posted By RichC on April 1, 2020
April 1st is usually a day reserved for lighthearted jokes (April Fools' Day), but the mood is just not there this year … at least for me. Thankfully we are still operating Coronavirus-free as a family, but no doubt as this pandemic makes its way across the country and envelopes the world, someone in the family will be touched. I pray that it will be only lightly and well after the initial onslaught…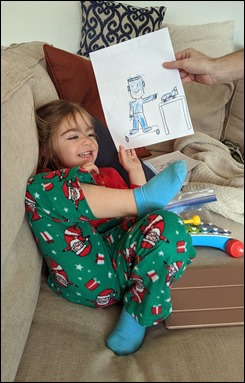 and after a life-saving medical protocol is fully in place (it is coming).
We did receive a prayer request yesterday from my brother-in-law regarding Jessica who is in California finishing online classes and a law school externship at Pepperdine University. She is showing a few signs of "some kind of sickness" … a cough, slight fever, etc. Of course it is also allergy season … yet most of us are paranoid regarding COVID19 (my January post) at least until quick and convenient testing arrives. Nevertheless, Brenda and I are praying for her.
On to something a bit more cheery … and some fine art from my granddaughter (photo left) – she calls it "Bompa in his workshop." Irresistible! Another photo for the Echo Show! 😊
Every since Katelyn and Drew gave us an Amazon Alexa Echo Show for Christmas this year, I've been updating the device's slideshow feature with photos, usually Annalyn and Ellerie each month. Since yesterday was the 31st, Brenda and I now have a bunch of new photos to look at when working in the kitchen.
Of course, I'm going to include a couple of the latest ones on MyDesultoryBlog below!