Posted By RichC on June 5, 2020

Size matters when emailing or just saving PDFs. It is easy to create them for paper-free archiving, but sooner or later most of them are larger than they need to be.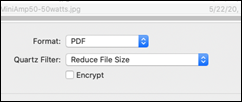 Years ago in the printing world, almost every project was archived on CPPnet's connected servers for our customers, usually in the Adobe PDF format. It was important to keep the quality high, but the storage size low … a delicate balance. In those early days (1990s) few of us had high speed Internet, so optimizing the compression made sense. Eventually we gravitated to using a few of the web-based conversion services (paid versions) as a way to batch process. Now in 2020, most people just create or "print-to-PDF," save and attach a file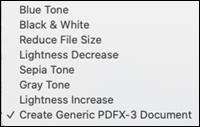 without thinking all that much about it … until their cloud storage, hard drive or email archives become unwieldy.

Apple Macintosh users for the most part use bundled Preview software that I use all the time (out of habit, I still use an old version of Adobe Acrobat Pro or PDF Reader or Adobe Distiller when working on a Windows PC). Included within the Preview app's default setup are a few compression filters (above) to use when "exporting" to whatever image format you want. I've never found the handful of "filters" all that helpful

… in fact the ultra-compressed "Reduce File Size" Quartz filter is nearly useless – way too blurry.
BUT … one of the little known tips, is that the Quartz Filter tool can be tweaked with the Apple ColorSync Utility using the "live preview" inspector. To set this up follow these 3 steps THEN you'll have a "Reduce File Size" filter for Preview exporting that will reduce the file size and keep a PDF file that can be comfortably emailed or archived for your paperless office.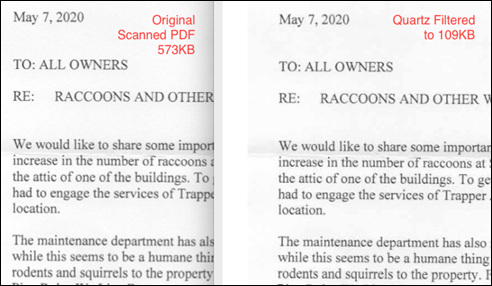 With a few "live preview" adjustments, I've reduce a normal scanned 8-1/2 x 11 page to nearly a fifth of the original PDF scan with only minimal blurring … very useable.

You can use Quartz filters to modify a PDF document by adding effects, changing the colour space and even reducing the size of the file by recompressing graphics.

In the ColorSync Utility app on your Mac, choose File > Open, then select a PDF document.

When the file opens, click the Filter pop-up menu at the bottom of the window, then choose a filter.

The effects of that filter are reflected in the window, but the file is not modified.

To step through the pages of the PDF document and see the filter effects on each page, use the navigation arrows in the toolbar.

Click Apply when you want to save the changes.

If you choose Live Update from Filter Inspector, the appearance of the PDF document changes as you select and edit a filter in the filter inspector.