Posted By RichC on June 6, 2021
For years now … no, it is now decades … my buddy Jeff and I have gone out for lunch ever other week and almost exclusively to a Mexican restaurant … primarily for the chips and salsa (and relaxed conversation). Before that,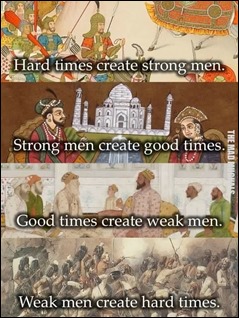 we lived in different cities (he in Florida and then Alabama … and me in Ohio), but we would still regularly connect by email or "pager text message" or before that, letters because long distance phone calls were too expensive. Yes … that is how you show your age.
The pandemic has slowed our lunches out a bit, but it is time to pick it up the bi-weekly pace again. This past week the topic of conversation was inflation and cycles of history. For my part, I've been focused on government money printing, stimulus dollars and rising prices. Jeff, on the other hand has been reading about historic cycles and generations from the book by the late William Strauss call "The Fourth Turning: What the Cycles of History Tell Us About America's Next Rendezvous with Destiny."   One of the graphics he sent summarized the thesis of the book: Hard times create strong men. Strong men create good times. Good times create weak men. Weak men create hard times.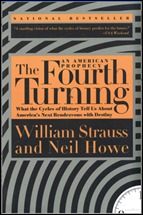 Of course his topic was far more intriguing and as usual, I purposely challenged the premise – always the antagonist (I'm not sure why … but it probably has to do with learning from debating?) Anyway, I now find myself intrigued enough to want to read the book. A great conversation … as always … thanks Jeff.
For my part, I talked about signs of inflation and where I thought it might be heading. I understand the Fed's "transitory" comment and agree the spike in prices we see at the moment has to do with the economy trying to open back up. On the other hand, I'm concerned that the money printing and policies coming from Washington DC are catalysts for longer term inflation … especially if starting wages rise and taxes on corporations make it through Congress (high taxed businesses either move elsewhere or will merely be past down to consumers in higher prices, or both). Oh … and how does this newfangled cybercurrency factor into this discussion?
Inflation may occur when there is too much money in the system, which leads to an escalation in the price of goods.

Also …

Many different factors contribute to rising prices. When the overall demand for goods build, supply prices will rise. Increases in the cost of production—due to everything from growth in the cost labor to rises in the cost of raw commodities.
Of course what we really want to know is how to prevent hyperinflation and "How to Profit From Inflation."