Posted By RichC on March 10, 2023
It has been quite a few years that I've been struggling with what to do when it comes to purchasing a new "travel" computer and I have contemplated doing something a number of times. The aging Lenovo still works, but I do struggle with not having everything
with me that is part of my "Apple Life." Still the new MacBook Pro line is too expensive for what I do anymore and the lower priced MacBook Air M1 wedge shaped notebooks with limited SSD storage seems underwhelming (Taylor loves his MacBook Air and not sure about Katelyn,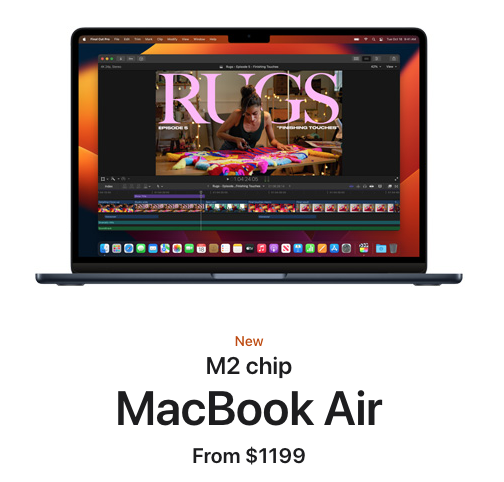 but she has one too). I'm still tempted to go with the new M2 MacMini. 
When the MacBook Air M2 was released in mid-2022, it looked as if it might be the perfect travel computer … but it of course came with a much higher price point and still didn't have a touchscreen (not necessary, but something I'm gettting comfortable with after using my Lenovo, iPads and Brenda's Chromebook). The lowest priced M2 Air also comes with a pitifully small SSD (only 256GB) and bumping that up adds hundreds of dollars to the price … so I've put off a new computer again.
Until I was tempted by a USED odd-colored Starlight one that claims to only be missing the box and is in "E" (excellent) condition. The sales person at Adorama said I'll have 30-days in which to review it AND was able to give me free shipping, at least one way. So with that extra arm twisting,  the 8-core CPU and 10-core GPU (a slight upgrade) and a 512GB SSD … I decided to order this week since the price with tax and shipping discount was $1181.09 (adjusted sales price from rep was $1109.00), a bit less than ordering the starting price model "new" from Apple. Yes … I'm holding my breath. 

Adorama – openbox MacBook Air M2, 8-core CPU and 10-core GPU w 512GB SSD