Posted By RichC on April 1, 2018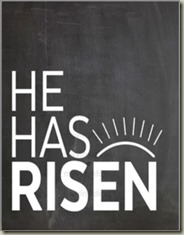 Happy Easter brothers and sisters in Christ!
        He is Risen! He is Risen Indeed.
This past week I've been listening to Alistair Begg speak on Life After Death recorded from Parkside Church and shared on the Truth For Life podcast. Ever since Katelyn and Drew gave me the Amazon Echo Dot for Christmas I have tried to start or end my day with a little from Alistair's teaching. It might be easier to use my phone and play the audio on the "already" installed Truth For Life app or iTunes, but having to sit quietly near the Echo speaker and LISTEN is a little more contemplative on my part. 
The two parts on Total Transformation (Corinthians 15:51-57) focus on "death swallowed up in victory" through the resurrection of Jesus is the way Christians ponder death. The "sting of death" (sin) has been carried by Jesus for all who accept Him as their Savior … and through His resurrection on Easter, death is no more than "a passing shadow." How comforting for those of us who miss recently love ones, but know they are with the Lord.

As I write this, the most recent podcast from Truth For Life that I listened to had me pondering a ministry project that I work on with my friend Pastor Keith Thomas. We include a heat ClusterMap from countries that use GroupBibleStudy.com as a "measure" as to where there is a hunger to study The Word — hm? (…but it also helps in allocating donations to translate bible studies.)
A thought provoking audio snippet from Alistair Begg on
"measuring a ministries success" | 3/30/2018