Posted By RichC on December 16, 2021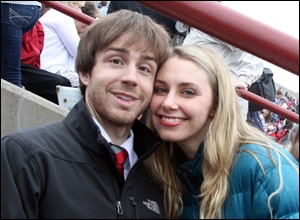 The years go by quickly and I'm not sure how to keep up with the time anymore, except maybe by watching our granddaughters grow up … or noticing gray hair and elbow wrinkles. UGH!
The 8 years and 8 months our son-in-law Drew has been married to Katelyn and part of our family have been wonderful for us. To mark his birthday this year, I've opted to blog on it a few days late as an appropriate reason to make it a ThrowBack Thursday #TBT post. Here's a photo from Taylor Miami University graduation in Oxford, Ohio in 2013 shortly after the Big Wedding, when they were still newlyweds … does that make them "oldlyweds" nowadays?
So Happy Birthday to Drew. May you have many, many more.