Posted By RichC on December 23, 2011
Can I sail through the changing ocean tides
Can I handle the seasons of my life?
| | |
| --- | --- |
| |  Landslide – Stevie Nicks in 2007 (originally 1975) |
We didn't put that much time or effort into including a thoughtful letter with our Christmas cards this year, instead we merely included a collage of photos (below). That said we still wanted to wish our family and friends … and those loyal readers of my blog … a very Merry Christmas and healthy New Year.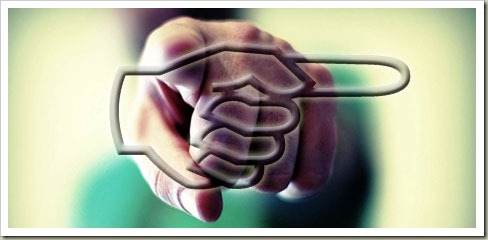 In hindsight, the year has been a positive one, although I'm sure I'm not the only one who expected a little bit more of an economic recovery? Business has been tough and keeping my chin up more of a challenge than I would like to admit. We can all point fingers, but as the old adage goes … "for every finger you point at someone else, there are three pointing back at yourself." It is also probably true for many of us that we live beyond our means, fall short in teaching our children and continue to elect ineffective politicians and accept  government as usual.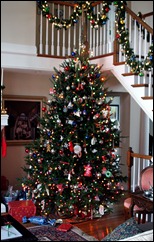 Negativity aside, I'm thankful to still be living in a country that embraces liberty and rewards personal responsibility. I'm thankful for family and friends who not only support each other, but voluntarily are generous to others in need. As a whole, Americans are like no other when disasters hit and need arises. Our Judeo-Christian morals and values are still alive and exhibited by our citizens even though multiculturalist and secularist gain ground.
On personal reflection, this year has me feeling a bit older. Katelyn is now officially "off the payroll" (as a good friend and blog reader says), a doctor and living on her own. Taylor acts and is very independent with most things. He has been responsible in living off campus, managing his rent, bills and cooking … and realizes that the free and easy college life will soon be coming to an end (although his goal seems to be to stretch it as long as he can, how can I blame him?)
Click for our Corbett Christmas Letter for 2011 in PDF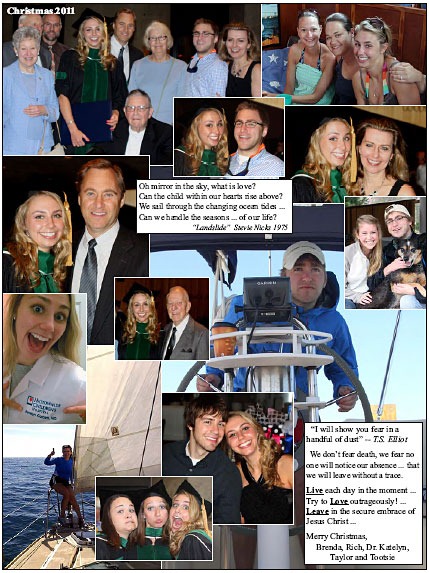 1975 by Stevie Nicks

This one's for you daddy.

I took my love and I took it down
I climbed a mountain and I turned around
And I saw my reflection in the snow covered hills
'Till Landslide brought me down

Oh mirror in the sky, what is love?
Can the child within my heart rise above?
Can I sail through the changing ocean tides
Can I handle the seasons of my life?
Mmm mmm I don't know
Mmm mmm
Mmm mmm

Well I've been afraid of changing 'cause I
Built my life around you
But time makes you bolder
Children get older, I'm getting older too

Soo (Interlude)

I've been afraid of changing 'cause I
I built my life around you
But time makes you bolder, children get older
I'm getting older too
I'm getting older too
Soo take this love, take it down
Ohh if you climb a mountain and you turn around
If you see my reflection in the snow covered hills
Well the landslide will bring it down, down
And if you see my reflection in the snow covered hills,
Well maybe, the landslide will bring it down
Well well the landslide with bring it down