Posted By RichC on March 22, 2019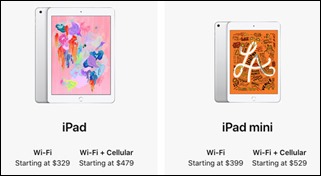 There is isn't anything wrong with my current 2014 Apple iPad, it is just getting older as far as technology goes, and is a little sluggish (or so it seems). It is still the single most used tech device that I have … and the reason I'll likely replace it with another when the time is right.
I enjoyed using my wife's Samsung Chromebook Pro and while it is an excellent laptop replacement for those needing only cloud-based apps and near zero updating headaches, it is not the laptop or tablet replacement for me. My Lenovo laptop is a fine back up and travel computer, but like all Microsoft Windows OS devices, it requires continual scanning, backups, updates and fidgeting. Compared to previous computers, it is far quicker to boot, has a reasonably good screen, is lightweight and with the touchscreen and fully folding keyboard is also "kind of" a big tablet … but definitely not an iPad when it comes to relaxed reading or battery life.
On the other end, my iPhone 7 plus has been a great phone and now after 2 years of ownership has a new battery. The great LTE Virgin Mobile plan (had to negotiate or leave) and excellent camera, that has me leaving my Lumix GX8 DSLR at home most of the time, can almost replace an iPad … but typing and text entry still can't match the Brydgekeyboard I use with the iPad. So … I still need the iPad … besides reading or watching a video on an iPad is way better than even a large phone.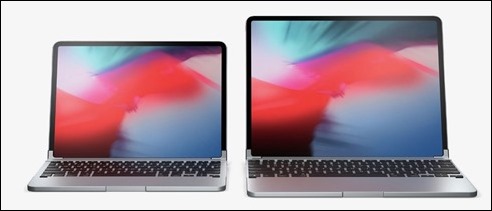 The final kicker is that my current Bryddgetech keyboard has a faulty USB socket … and charging it has become difficult. Currently I can spend a few minutes twisting and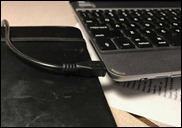 propping up the cord in order to make a connection … but it is just a matter of time.
So … the current plan WAS to wait until the 2019 Brydge keyboards are available (May 2019) and then start looking at new the new iPad Pro (photo above) … that was until Apple announce a couple more iPads. The new devices are the iPad mini and iPad Air … updated version with faster processors, better 10.5" display and Apple Gen1 Pencil support (and the optional Apple smart keyboard protector). The advantage of the newer iPad Air is that it is the same familiar iPad I am used to … 3.5mm audio jack, lightning charging plug and "Home" button/fingerprint reader on the display … AND it would save me a few hundred dollars. Hm … a true "first world problem" if there ever was one.