Posted By RichC on December 15, 2022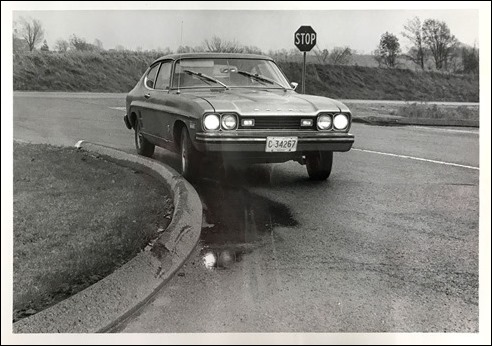 First up, is a rainy photo of the second car that I rebuilt … but this 1974 Capri was really my first car since I bought it with my own money (paid $600 at a junkyard in 1978). The car I think of as my first car would be a 1967 Ford Custom 500 (link to when it was newer and towing a trailer) was really my mom's car that I learned to drive on. It eventually required rust repair, repainting and the engine rebuilt when I was in high school (great lessons with some extra help from my dad and neighbor). The Capri required a bit more (cough, cough)  body work since Dallas and I replaced a front quarter clip (photo left).
The other couple of photos: 1) Was sailing (racing Thistles) on Kiser Lake just east of Sidney, Ohio and 2) my long time college buddy and good friend to this day Jeff Pitts when he was volunteering as an EMT in Ada, Ohio (looking out of our 2nd floor Founder's Hall dorm window).
Great memories and am glad to be able to archive these photos before they are gone!