Posted By RichC on December 12, 2021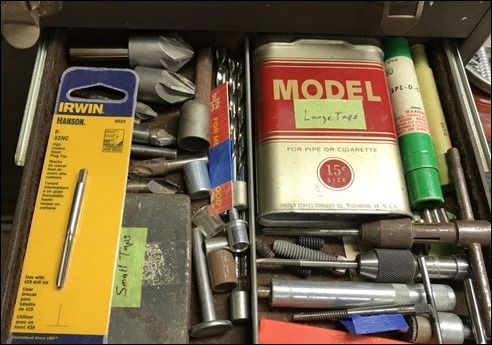 After years of collecting a variety of tools and "tool" parts (bits, blades, etc), I've noticed that the mish-mash of storage containers have become even more interesting as the actual items being stored and saved (click photos for larger). 
Here are a few photos with a variety of storage items in a Where's Waldo (or Where's Wally) kind-of collage. From baby food and formula jars, to almond and nut cans, to Band-Aid boxes to 35mm film containers,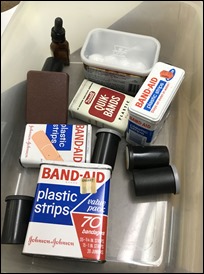 to pickle jars and coffee cans (and plastic), to Rx pill vials, metal Altoids and Sucrets boxes and all kinds of tobacco tins, cigarette and cigar boxes.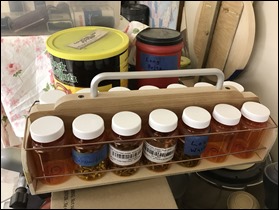 Some of the wooden cigar boxes came from Brenda when she managed a small corner Gray Drug drugstore in Shaker Heights, Ohio (read below videos on this post). A couple of them are from my Grandpa Bluhm and a few like the Model pocket tobacco tin I used to store "extra taps" in were in the toolbox that came from DadC … although don't think they were originally his tobacco tins? Also, I do have a fairly new 2018 (??) tap and die set that I usually use below (think I bought previous to the Tap Magic?). What got me thinking of this was grabbing a 1/4"-20 tap to add outlet blocker storage blocks to my older "poor suction" Shopsmith dust collector. Still contemplating an upgrade someday.